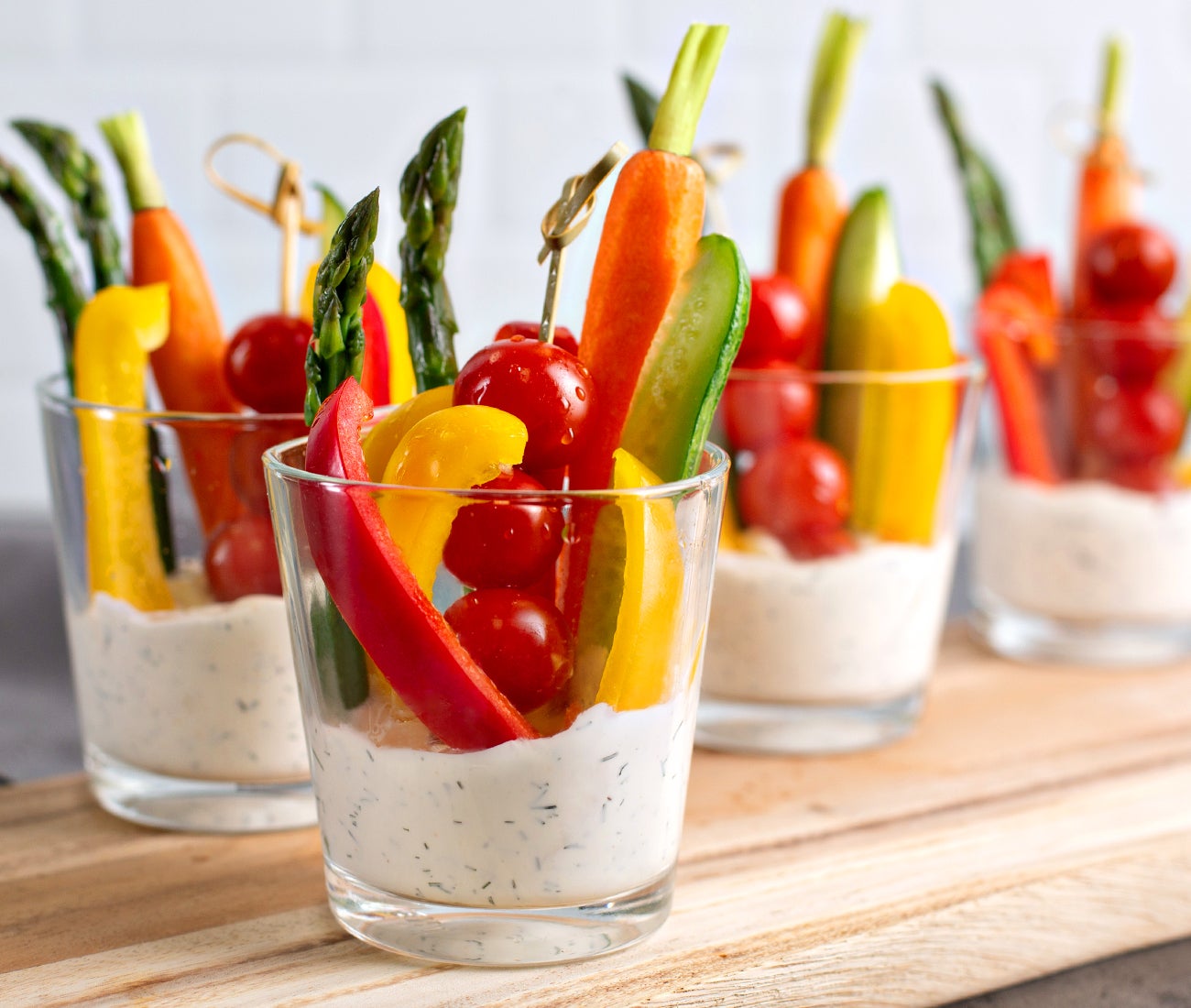 Veggie & Dill Dipping Cups
When you host, one of the first questions will always be, "What will I serve?" This veggie cup appetizer recipe is simple, fun and perfectly portable, so it's great for mingling at parties, small get-togethers and solo snacking. And you don't have to worry about double dippers, because everyone will have their own individual veggie cup.
Ingredients
1 cup sour cream
1/2 cup mayonnaise
1 tbsp. finely chopped onion
2 tsp. dried parsley flakes
1 tsp. dill weed
1 tsp. seasoned salt
Assorted fresh vegetables: red & yellow bell peppers, cherry tomatoes, baby carrots with tops, baby cucumbers, asparagus (blanched)
Directions
Combine sour cream, mayonnaise, chopped onion, parsley flakes, dill weed and seasoned salt; mix well. Cover and refrigerate.
Slice bell peppers lengthwise into sticks. Peel carrots and trim tops. Halve baby cucumbers lengthwise. Spear tomatoes with bamboo picks. Trim and blanch asparagus.
To create individual servings, add a small amount of dip to clear glasses. Arrange a variety of veggies in each cup.
Refrigerate on a serving tray until guests arrive.
Substitutions: Not a fan of dill? Try ranch dip, hummus or Greek yogurt. If you're pressed for time, use a bottle of your favorite dressing.
How to blanch asparagus: To blanch asparagus, bring a large pot of water to a boil. Place a large bowl of ice water next to the stove. Add asparagus to the boiling water and cook until bright green and crisp-tender (about 3 minutes). Using a slotted spoon, transfer asparagus to ice water to stop the cooking.
What We're Pouring
Sip one of our featured cocktails.