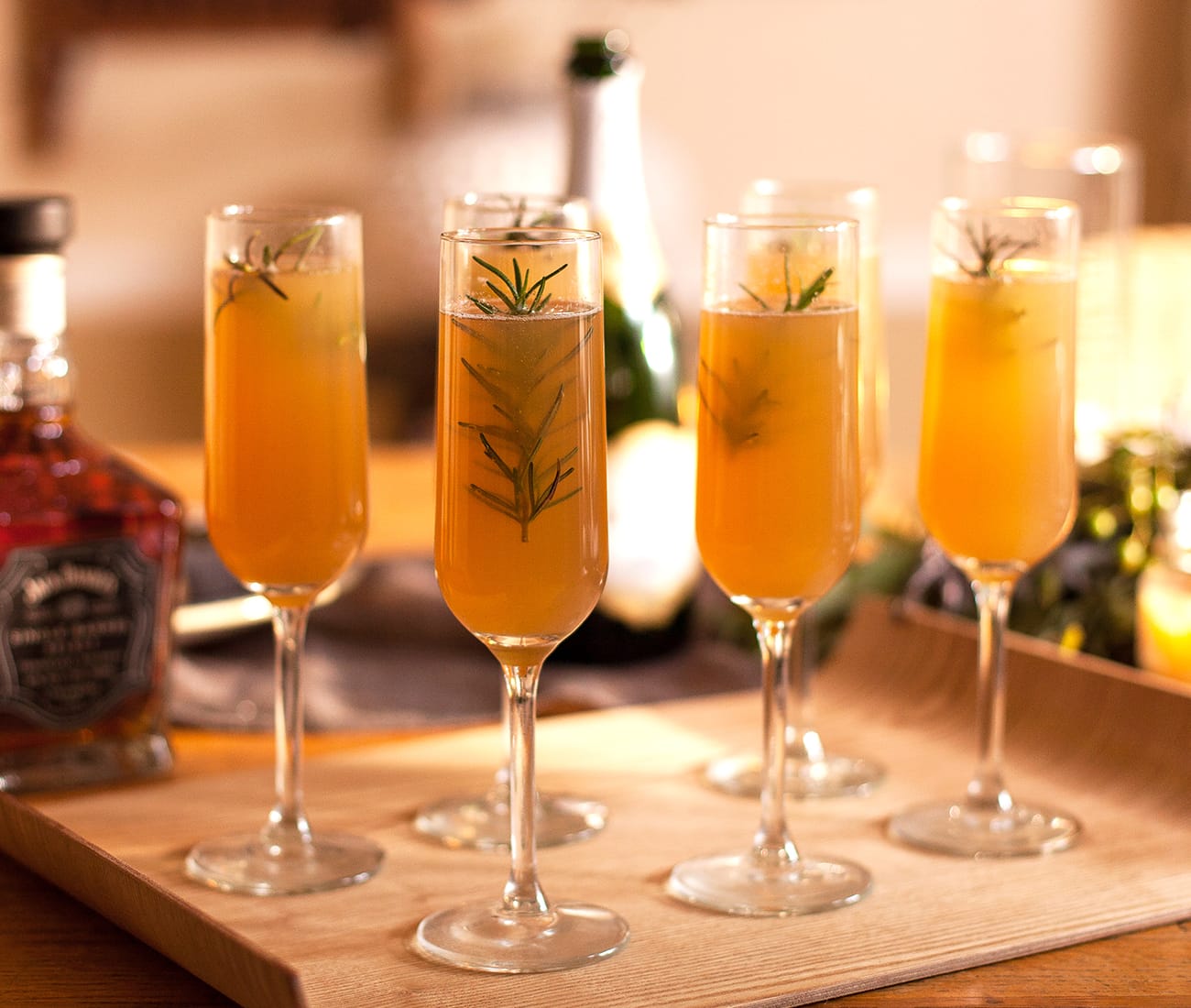 Tennessee Mimosa
Everyone loves brunch—even good ol' Jack. Here he adds a little caramel and spice to a bubbly favorite for a uniquely delicious whiskey mimosa.
Ever wonder how the mimosa cocktail became synonymous with brunch? Like the Martini, Old Fashioned and other favorites, there are no shortage of mixologists who've been credited. Most lean toward a bartender at the Ritz Hotel in Paris in 1925. While there was a similar cocktail called the Buck's Fizz created in London a few years earlier, it had more sparkling wine than orange juice, not the perfect balance of OJ and champagne. And balance is probably what made this sipper a brunch favorite. It also may have had a little something to do with a particular Hollywood influencer, one Mr. Alfred Hitchcock. Legend has it he was a big fan. We bet he'd love a mimosa with Tennessee whiskey, too.
While we don't know the true genius behind the original mimosa, we do know it's a darn delicious and refreshing pairing for a Belgian Waffle. And our whiskey mimosa recipe is even better! So pass the Jack Daniel's® and Korbel® please.
Tennessee Mimosa
Ingredients
1 

part 

1 

part 

pear nectar, chilled (find in the juice or international aisle)

1/2 

part 

fresh-squeezed lemon juice

1 

fresh rosemary sprig
Directions
Chill a flute glass in the refrigerator for at least an hour; chill the Korbel for at least three hours.
Cut lemon in half and squeeze using a handheld squeezer.
Remove the flute from the refrigerator and add the whiskey, pear nectar and lemon juice to the glass.
Place the rosemary sprig in the glass.
Top it with chilled Korbel.
Sipper Spotlight: Tennessee Mimosa
Make it this way. Drink it your way.
What We're Pouring
Sip one of our featured cocktails.