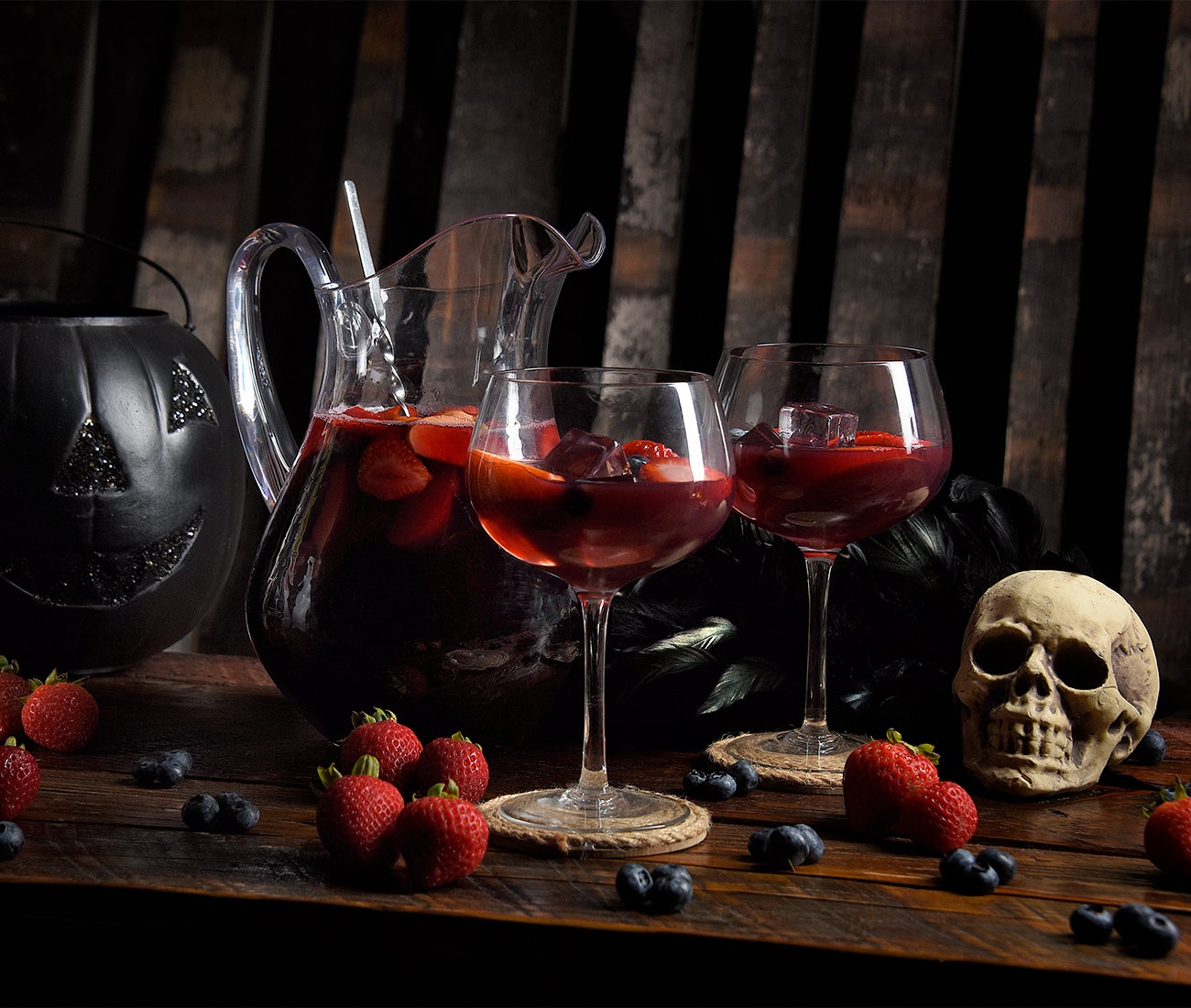 Get spooky with a Halloween cocktail party
No need to be afraid. Our Halloween party ideas will make it easy.
What thought scares you more: watching a horror movie on a dark and stormy night when the power goes out and you start hearing strange noises, or the thought of hosting a Halloween party? We'll help you make sure it's not the hosting.
Start With a Theme
While you can't go wrong with a traditional "wear whatever" costume party, coming up with a theme can really kick up the fun and creativity for your guests. Plus, it can help you create invitations and decide on décor. Think "80s sitcoms" or "favorite movie characters." Then get ready to laugh. A lot.
Become the Mixorcist
What would possess you to do that? (See what we did there?) Halloween cocktails are essential, and we have some easy and delicious suggestions that can even be made in larger batches so guests can handle their own refills. Here are some of our favorites:
Tequila Chill – el Jimador® Silver, Chambord® and lemonade
The Jack-O-Lantern – Gentleman Jack®, OJ, ginger ale and orange liqueur
Boo Bourbon – Woodford Reserve®, cranberry juice and sweet and sour mix
Pumpkin Pie Martini – Old Forester® Signature, half and half, and pumpkin puree syrup
Berry Grim – Jack Daniel's®, Chambord®, dark crème de cacao and cola
And, of course, you can't forget an alcohol-free potion:
Berry Scream – Grape juice, pomegranate juice, sliced strawberries, raspberries, blueberries and club soda
Tip: Need ice in your punch bowl? Fill a rubber glove with water, tie it shut and freeze. You'll have a creepy hand floating in the bowl.
Killer Bites
Your party guests probably aren't looking to sit down to a formal dinner in their costumes. Heavy appetizers are the way to go.
Photo BOOth
Capturing the night is a must. If you have room, create a dedicated area for photo opps and dress it up to fit your theme. Be sure to share those photos privately later, such as via a private Facebook group or Google Photos, so everyone can relive the night.
And the Winner Is…
Add a little friendly competition to your party with a costume contest. Party guests will vote. Categories can include most original, most creative, most spot-on (for themes like TV shows or movie characters) or most scary.
Do the Mash
Put together a playlist to set the mood and keep the energy going. Start with spooky sounds and music. If you go with a theme, tailor your music to that, at least early on. For example, if your theme is 80s sitcoms, you can easily download TV themes from that era, as well as popular 80s songs.
Last but Not Least
Help everyone get home safely with a rideshare or taxi. (See links to Lyft and Uber apps below.)