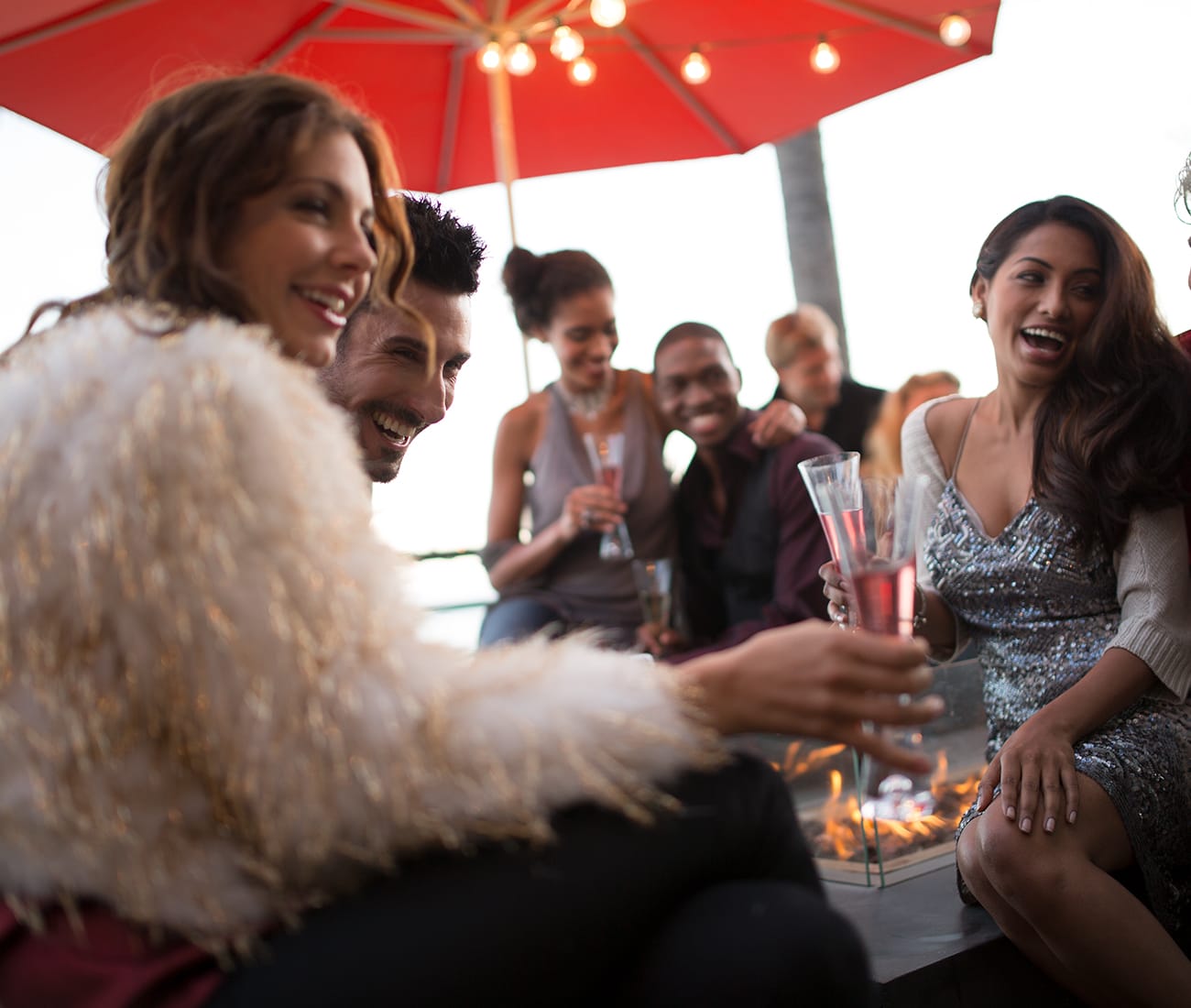 Countdown to the perfect outdoor party
Use our checklist to plan your next outdoor gathering.
Planning an outdoor gathering can be intimidating. Who do you invite? What do you need to get? What's on the menu? Do you offer cocktails? If so, which ones? (No worries, we definitely have that covered.) And then there's Mother Nature. She doesn't always have the best party etiquette. For whatever outdoor party you are planning, use this simple checklist to help you stay organized and make entertaining easier.
3 months to 1 month before
A great party starts with your favorite guests (especially that quirky cousin of yours). Get a preliminary guest list together to help you determine exactly what you need and how much of it. The type of party and when you're hosting it may also determine how much notice you give guests. You know from personal experience that summer calendars fill up quickly, so consider giving them enough time to work it into their schedules. Once you have a solid list, send a save-the-date. You can get formal with print invitations or keep it digital to hug a few trees.
1 month to 2½ weeks before
You should start seeing responses around this time, so create an RSVP list to keep track. Start planning your food and drink menus. We've curated some of our most popular and unique cocktails by occasion, so take a peek at our recipes for inspiration. (You may decide to make one tonight!) Signature cocktails are a hit at parties—consider making one a centerpiece.
If you don't have a ready-to-go bar or bar cart, now's the perfect time to do inventory and account for all your drink needs. Once you're feeling good about your drinks, head over to our food section for easy-to-make pairings.
Great music is the perfect backdrop for any party, so start creating a playlist you can put on autoplay. Make sure to consider any outdoor audio needs, too. If this is a bigger event and budget allows, a professional DJ will keep the music fresh and fun.
1 week before
The party is getting closer! Time to make a list and shop for nonperishables, including mixers, liquor, water and decorations. Don't forget essentials like glassware, bottle openers, napkins, flatware and plates. (Those can slip through the cracks.) Make sure you have enough coolers and seating, too. You can borrow extras from friends and family. Now's also the perfect time to knock out any personalized or signature signage for drinks or food. Feel like doing a little taste testing of that signature cocktail? You want to make sure it will work. Plus, you've been working hard on this event, so you deserve a delicious break. Tip: If you want balloons, schedule a balloon pickup from your local party store.
2 days before
Create some space in your fridge and shop for fresh food that requires refrigeration. Set up seating arrangements, umbrellas or tents (remember Mother Nature?) and any lighting if the party runs into the evening.
If you're grilling, make sure you have plenty of charcoal or gas. (We recommend an extra tank.) And if you're using a gas grill, test it to make sure it lights and that all burners are working. Scrub those grates, too.
1 day before
Tomorrow's the big day. Time to check make-ahead items off your to-do list. Cut up fresh fruits and vegetables and prep any dishes that you can. Set out coolers and assign someone (maybe that quirky cousin of yours) to arrive early with ice. Batch cocktails can often be made the night before (or are better when they are, like Chambord® Sangria), because flavors have time to blend and the cocktail can chill.
Day of the party
You made it! Set up your bar and place plates, napkins and flatware on a serving table. Easy-to-grab snacks and garnishes, too. Open bottles for easy serving and pour pre-batch drinks into pitchers. Don't forget the drink signage you made last week indicating the cocktails and how to serve them. Staying hydrated and encouraging responsible drinking is always in vogue, so make sure you have plenty of water ready.
Now grab one of those signature cocktails, pull up a chair and enjoy yourself.