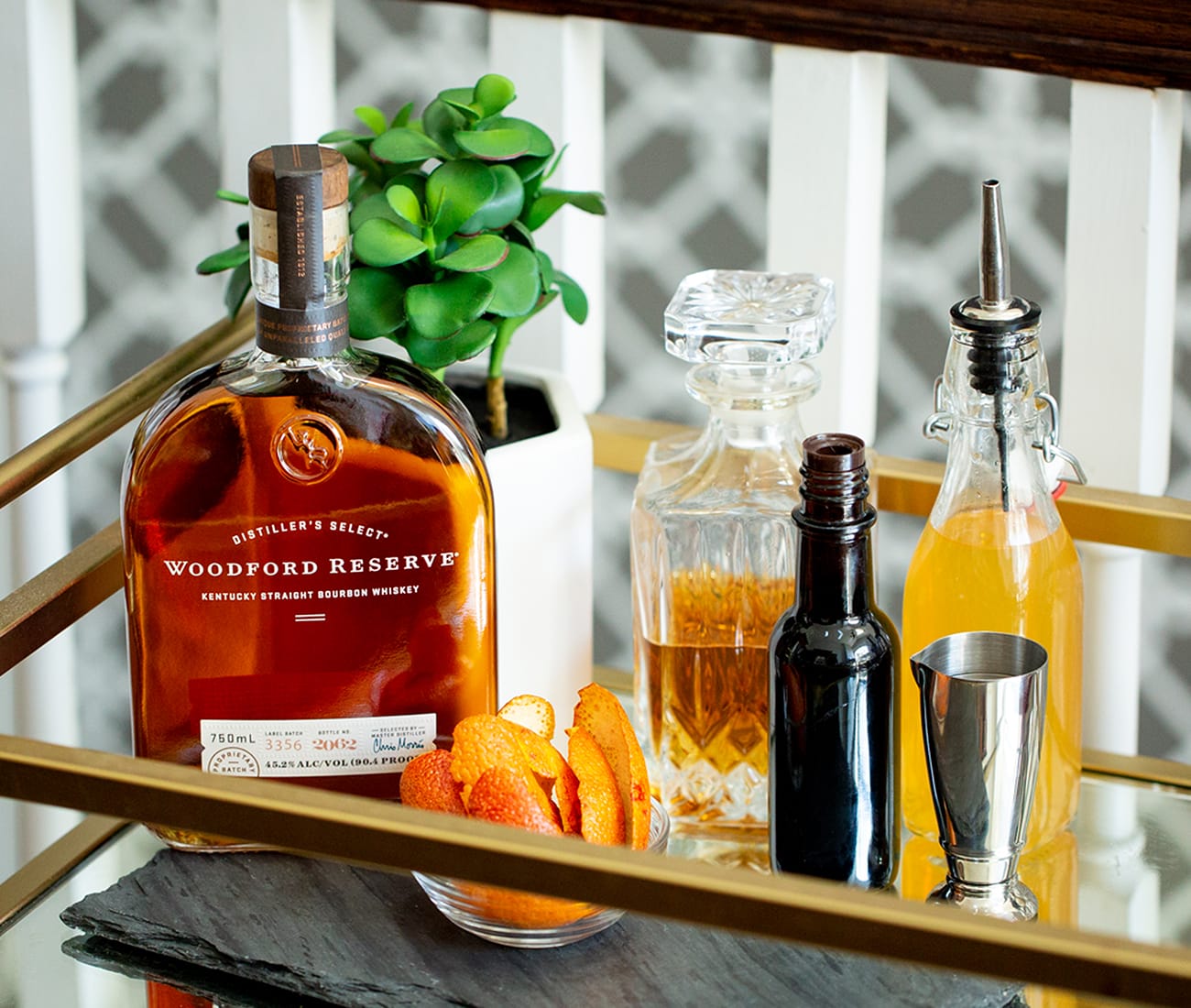 Build the ultimate bar cart
Stock your bar for at-home get-togethers and happy hours.
For many people, the bar is any cabinet or bookshelf that can accommodate a few bottles. And the glasses are in another cabinet. And the ice bucket is in the garage… Maybe.
We'll help you put together the ideal bar cart that gives all your cocktail essentials one true home. It feels more upscale, too. And you'll smirk a little when you ask friends, "Can I get you something from my bar?"
Bases
Obviously, the anchors for any bar cart are the spirits and wine collections on display. Here are some that will accommodate the tastes of every "patron."
Jack Daniel's® Tennessee Whiskey
Old Forester® Kentucky Straight Bourbon Whisky
Woodford Reserve® Kentucky Straight Bourbon Whiskey
el Jimador® Tequila
Finlandia® Vodka
Korbel® California Champagne
Chambord® Liqueur
Sonoma-Cutrer® Wines
Mixers
While many enjoy their spirits neat—and who can blame them—be sure to keep a variety of mixers on hand.
Simple syrup
Fresh juices (cranberry, orange)
Club soda
Sodas
Sweet and/or dry vermouth
Garnishes
The right garnish adds essential flavor and a splash of color to your cocktails. Some can live on your bar cart full time, but keep others (like fresh fruit and opened jars) in the fridge until you need them.
Fresh fruits (lemons, limes, oranges)
Bitters
Maraschino cherries
Olives
Sugar
Glassware
Mix and match styles of glasses to accommodate the different cocktail possibilities. (You wouldn't pour Jack Daniel's in a champagne flute, would you?) These five should cover most cocktails. Sorry, red plastic cups, you can stay in the kitchen cabinet.
Manhattan/martini glasses
Champagne flutes
Rocks glasses
Wine glasses
Colorful, festive glasses
Tools of the trade
To properly play recreational mixologist, your bar needs the right tools. There are a lot of fancy ones out there, but these basics are all you really need for most cocktails.
Shaker
Muddler
Bar spoon
Cocktail napkins
Shot glass
Bottle opener
Corkscrew
Knife
Décor & more
This is totally up to you. Add some décor that fits your personality. But don't overfill the cart. It'll look cluttered and be more difficult to pour drinks.
Drink signs
Festive straws
Stirrers
Fun bowls for garnishes
Pitcher for batch drinks
Books
Pictures
Flowers