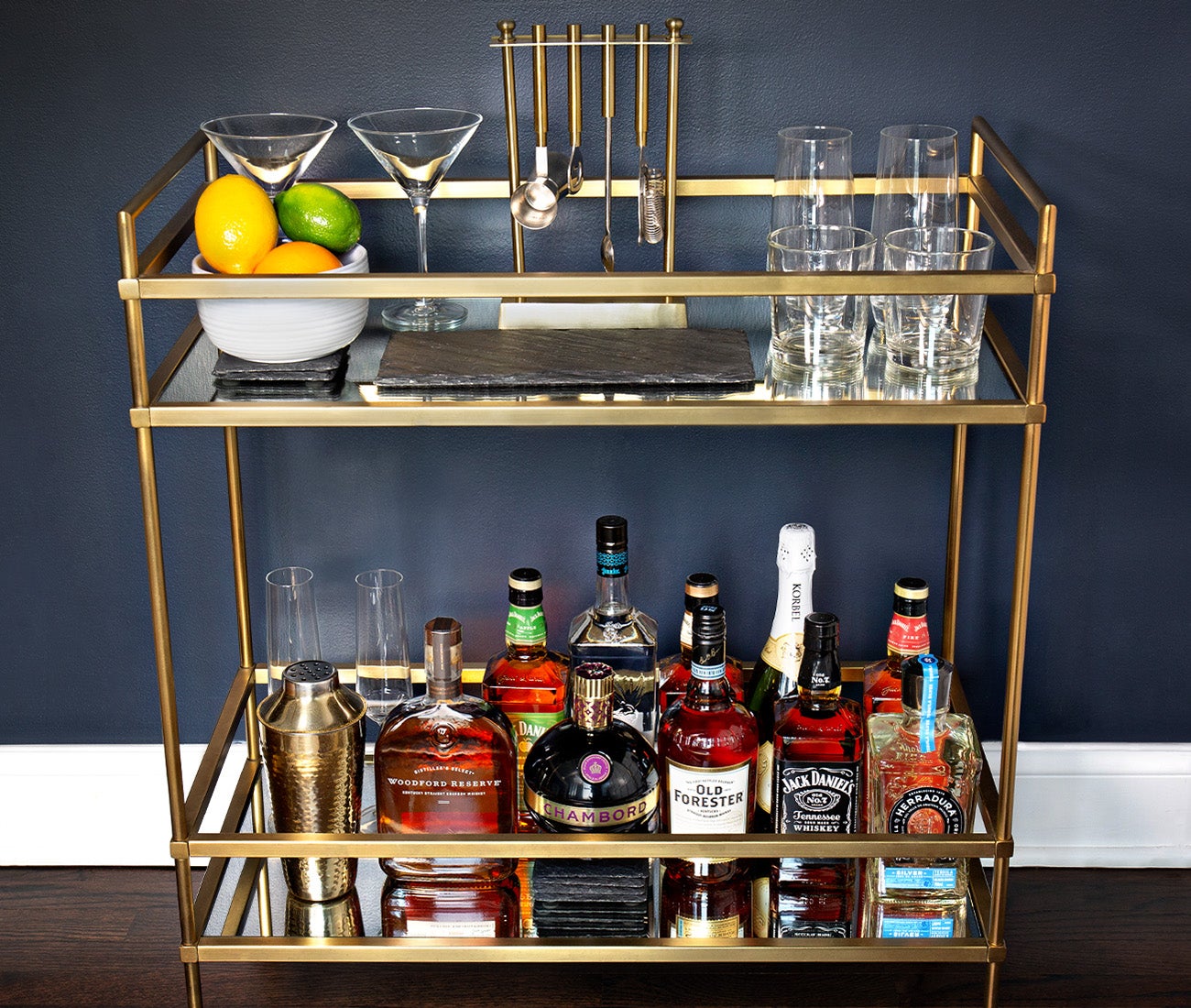 Build the Ultimate Bar Cart
A well-stocked bar cart isn't just a nice-to-have, it's a must-have. We'll make sure you have everything you need for every family gathering and happy hour with friends.
A couple bottles of your favorite spirits are on top of the fridge. The shaker is in the same cabinet as your travel mugs. And the jigger, that's…somewhere.  
It's time you pull all the essentials together to build the ultimate home bar cart. And it's easier than you think. We'll help you stock your bar cart with every essential spirit, glass and bar tool you need to master hosting.

Bar Cart
Or bar cabinet. Or armoire. Think through your space, personal style and how you prefer to host to help build your ideal adult beverage station. Whether on wheels or stationary, mid-century or modern, choose something with multiple levels so you can make space for bottles, glassware, tools and maybe even some bar cart styling.

Bar Cart Spirits

 



Wine and spirits are the anchors when stocking your bar cart. You want to be able to fix your friends' favorite cocktails. Here are some of our go-tos:  
Jack Daniel's

®

 Tennessee Whiskey

 

Old Forester

®

 Kentucky Straight Bourbon Whiskey

 

Woodford Reserve

®

 Kentucky Straight Bourbon Whiskey

el Jimador

®

 Tequila

Tequila Herradura

®

 

Finlandia

®

 Vodka

Chambord

®

 Liqueur

Korbel

®

 California Champagne

Sonoma-Cutrer

®

Chardonnay and Pinot Noir
Bar Cart Glassware
Your bar cart should include a variety of quality glassware to accommodate endless cocktail possibilities. Type and shape also affect the cocktail itself, so you'll be prepared for perfect cocktails every time. These should cover you:  
Martini glasses

Drinks: Martinis, Manhattans

Sloping sides keep ingredients from separating. The stem prevents hands from warming iceless cocktails.

 
Rocks glasses (also called Lowballs)

Drinks: Old Fashioned, Sazerac

For a spirit neat or on the rocks, or cocktails with more spirit than mixer. The shape allows for mudding, stirring and large cubes.

 
Highballs

Drinks: Rum & Cola, Jack Rye & Ginger

For cocktails with more mixer, such as soda. High sides help retain carbonation.

 
Wine glasses

Wider for red wine, narrower for white wine

Wider bowls enhance the aromatics of reds and allow flavors to open up; smaller bowls concentrate white's subtler aromas. The stem science applies here, too.

 
Champagne flutes

Drinks: Prosecco, Mimosas

Tall, tapered sides help retain carbonation. The stem keeps warms hands away from the bubbly.

 
Bar Cart Accessories
To properly play recreational mixologist, you need the right bar tools. These essentials will cover you for most cocktails: 
Shaker

 

Mixing glass

 

Muddler

 

Bar spoon

 

Jigger

 

Bottle opener

 

Strainer

 

Corkscrew

Knife

 

Cutting board

 
Bar Cart Mixers
While many enjoy their spirits neat—and who can blame them—be sure to keep a variety of mixers, bitters and aperitifs on hand for cocktails. 
Bitters

 

Simple syrup

 

Juices 

 

Club soda

Sodas (cola, ginger ale, lemon-lime)

 

Sweet and dry vermouth

 
Bar Cart Garnishes
Garnishes add essential flavor and a splash of color to your cocktails. Some can live on your bar cart full time, but keep others (like fresh fruit and opened jars) in the fridge until you need them. 
Fresh fruits (lemons, limes, oranges)

 

Jarred cherries

 

Olives

 
Bar Cart Styling
Got everything you need for your bar cart? Excellent. Now give it a touch of your style. String lights through the cart. Add flowers, a vintage print or photo, or cocktail recipe books. But don't overfill the cart. It'll look cluttered and be more difficult to pour drinks.