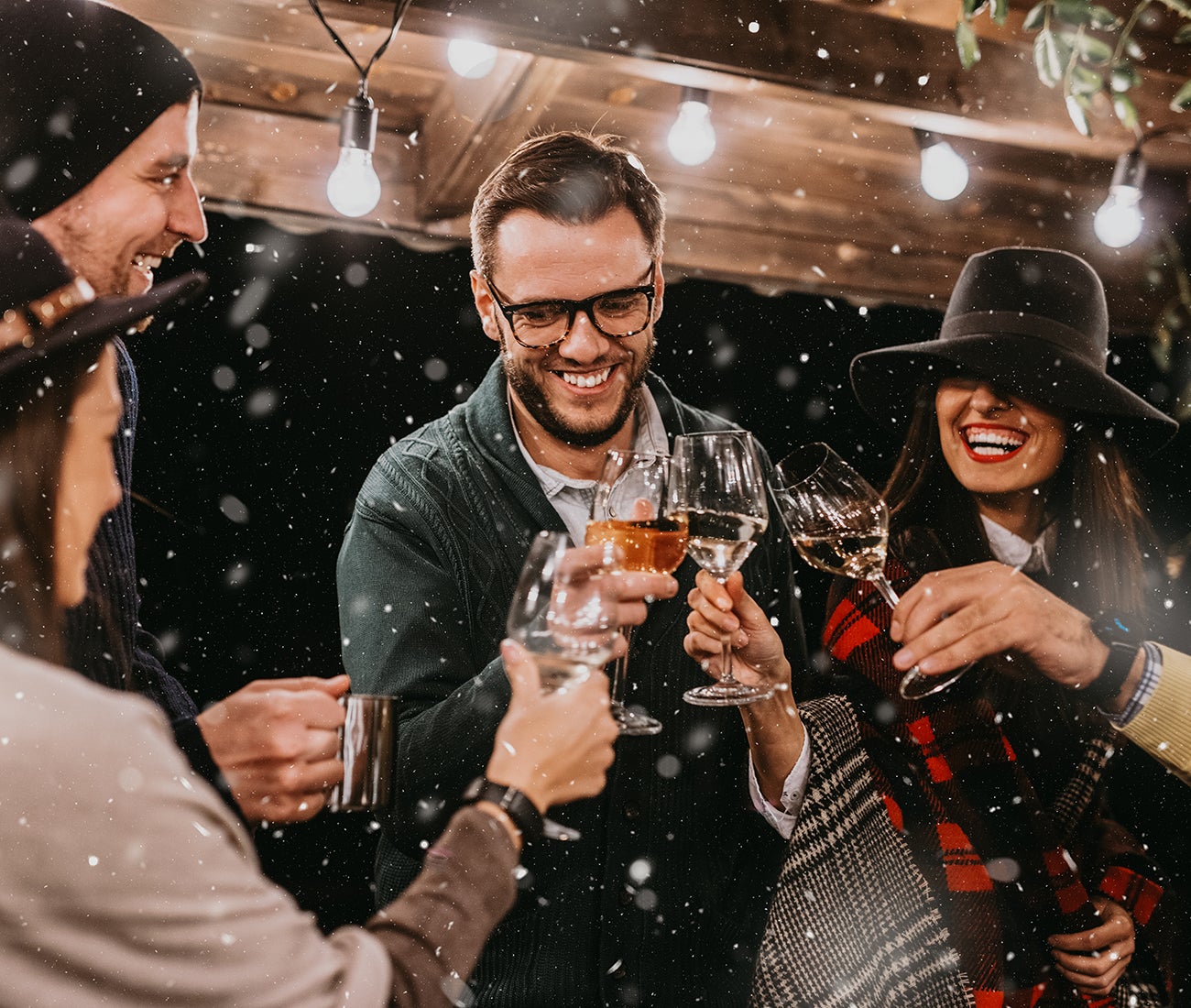 Host a holiday cocktail party
The weather outside is frightful, but a cocktail party sounds so delightful.
We can't help getting a little excited when we pull bins of holiday decorations from the attic. But eventually holiday stress creeps in. While we can't do much about the half-working strands of lights, we can share holiday cocktail party ideas that will put you on everyone's "Nice List."
Festive Holiday Cocktails
First things first. Every party this time of year needs to have signature holiday cocktail recipes. While everyday classics certainly have their place, your guests will love trying something a little more festive. Here are some of our favorites:
Woodford Reserve® Candy Cane – Mint simple syrup dresses up Woodford Reserve for a festive cocktail treat!
Punch Royale – A bubbly punch that's perfectly dressed for the holidays. Make it in batches so you can spend time mingling instead of refilling glasses.
Tennessee Coffee – Take the chill out of their bones with a hot cup of coffee, Jack style. This cocktail may become their new holiday favorite.
Be sure to have alcohol-free options available, too.
Stock Your Bar Cart
Have plenty of ingredients to make a night's worth of your signature holiday cocktails. But also have all the bases, mixers and garnishes for other drinks, too. Our easy guide will take the guesswork out of stocking your bar cart. And whatever you do, have plenty of ice.
Holiday Bites
When it comes to food, holiday cocktail parties should have a similar menu to cocktail parties throughout the year—small bites. Guests can comfortably mingle, carrying your signature holiday cocktail in one hand and a small appetizer plate in the other. Since this is a cocktail party, make sure the recipes are filling enough, too. Some of our everyday go-tos include:
Have a Theme
For extra fun and laughs, try adding a playful theme to your holiday cocktail party. Maybe ugly holiday sweater, white elephant or a holiday pajama party? How about a hidden talent show? You might discover that your favorite cousin can play the harmonica…while juggling and riding a unicycle.
Most Important
Make sure everyone has a safe way to get home. Rideshare apps and taxis are plentiful. (See below for links to Lyft and Uber.)