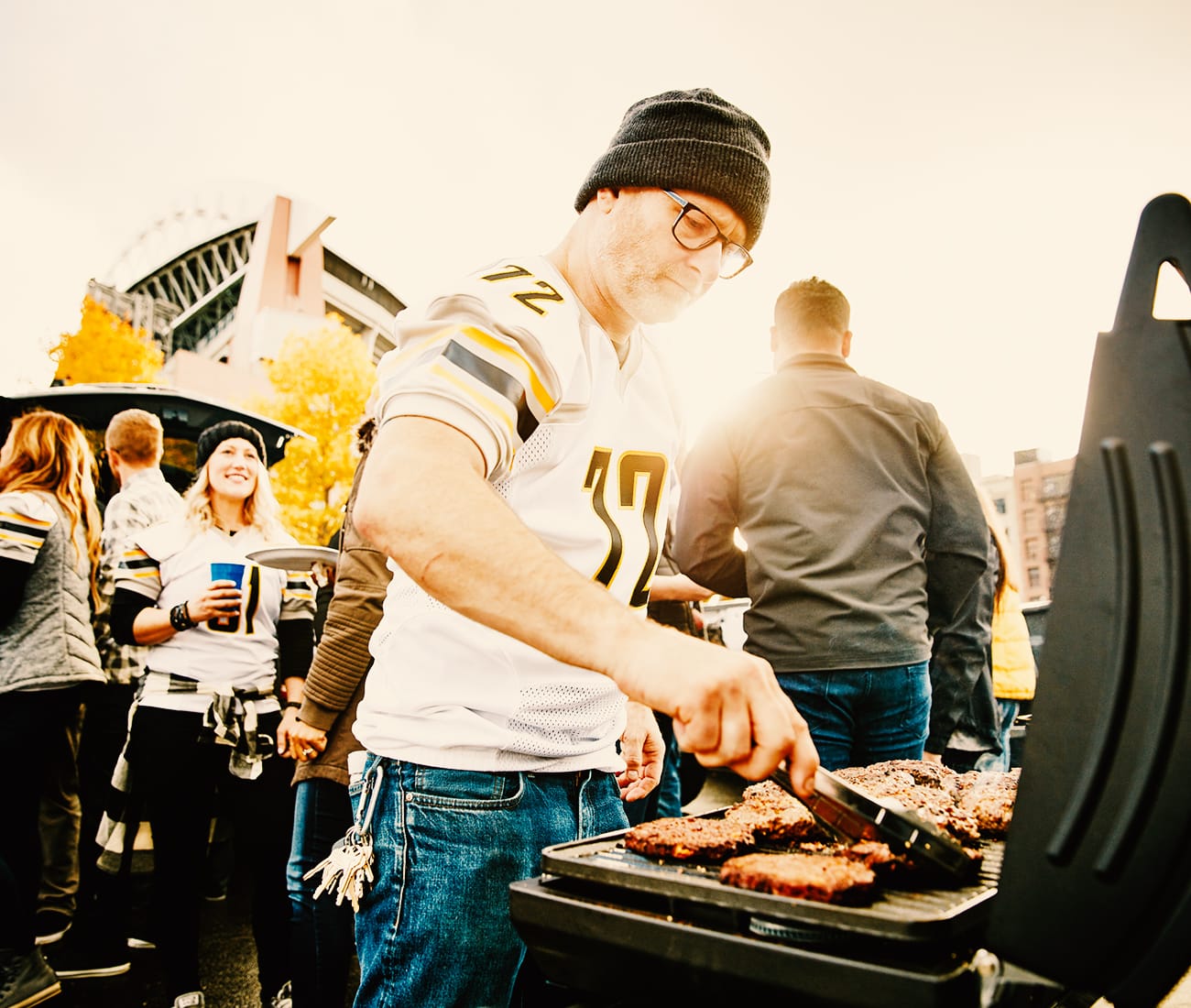 Tailgate & homegate like an all-pro
Become a tailgating MVP, not a game day benchwarmer.
The tailgate. It's the ultimate game day party. The celebration before the celebration. And it happens every weekend. Whether you're camped out in a parking lot or homegating in your backyard, you need more than a grill, a six-pack, your jersey and some eye black. Here are some tips and tricks to help you rock your tailgate and not end up looking in the rearview mirror, wondering what could've been.
Make a list
First, sit down and make a list. You don't want to be outside the stadium and wonder, "Um, where are the plates?" Here are some basics, but tailor it to your plan:
Trash bags
Sunscreen
Paper napkins
Disposable plates
Plastic cups
Paper towels
Zip plastic bags
Aluminum foil
Pop-up tents
Soda, juice and water
Coolers and ice
A grill with plenty of fuel
Show up early
Arrive 3-4 hours before the game and allow plenty of time to clean up afterward. Whether heading into the game or spending it stadium-side, you don't want to be scrambling.
Plan your menu
Plan easy-to-eat finger foods. You may make a killer lasagna, but save that for the dining room table. Try this Antipasto Platter.
If you're grilling, prep the night before. Shape burger patties, marinate kabobs and put veggies in plastic zip bags.
Snacks, snacks, snacks. Tailgating means a lot of grazing, so chips and pretzels and popcorn galore. Big box stores have bag sizes perfect for this.
Freeze your water bottles. You'll have ice-cold water on hand as they melt.
Get packing
Plastic storage bins are ideal because they keep things organized and won't tumble around like bags do every time you turn the corner.
Pack nonperishable items ahead of time. Before you head out, you'll only have to focus on items that need to be kept cold, like those beer brats.
Use disposable containers for easy cleanup.
Tailgate kit
Create a kit always stocked with essentials, so you just need to drop it in your car. Want one that's fun and easily portable? Go with a toolbox filled with utensils, sunscreen, bug repellent, first aid kit, tape, markers, wet wipes and nonperishable basics like spices for grilling.
Wash up
You know those large laundry detergent containers—the ones with the spigot? You can fill them with water and use them for handwashing at the tailgate.
Games at the game
Bring some fun games to play, too. Cornhole, washer toss, ladder ball and lawn darts are tailgate friendly.