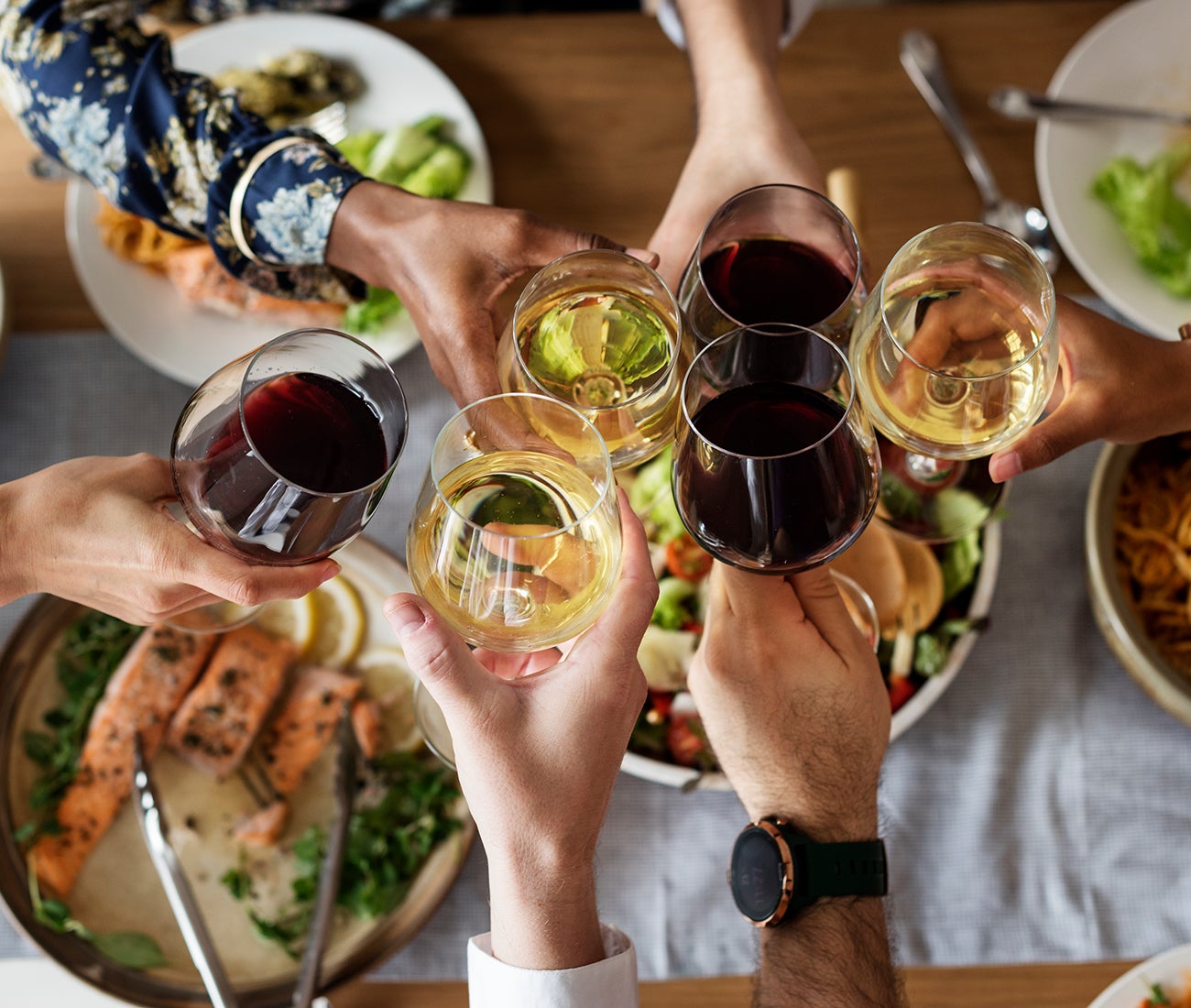 How to pair wine with food
A quick and easy wine pairing guide for chardonnay and pinot noir.
You received a nice chardonnay for your birthday and wonder what food to pair it with. An internet search for food and wine pairing can lead you down a rabbit hole of information—how things like sweetness, umami, salt and acidity in foods interact with wines to make them taste harder and softer… And that's where your eyes glaze over, because you just want to know what goes with that chardonnay.
So here are some basic flavor profiles of wine and how to pair that wine with food. And to keep it even simpler, we focused on just two varietals: chardonnay and pinot noir.
Chardonnay
The Basics
Let's start with your chardonnay. (Fun fact, it's the most planted white grape in the world.) Two things greatly affect how it tastes: where the grapes are grown and if the wine was aged in oak barrels or in steel tanks (called "unoaked").
Warmer climates—Napa Valley, Burgundy, France, and Southern and Eastern Australia, for example—yield grapes with tropical fruit flavors. Cooler climates—like Sonoma Coast, Oregon and Western Australia—give you apple and lemon.
If you prefer a creamy, buttery chardonnay, oaked is what you want. Like a cleaner, zesty chard? Go unoaked.
What about chocolate? People typically think of red wines pairing with chocolate, but chardonnay works, too. Try white chocolate. The buttery vanilla flavor notes bridge the two nicely.
Food Pairing
What pairs with this fruit-forward, full bodied white? Plenty! Seafood, chicken, mushrooms and creamy sauces play well with chardonnay. (Grilled salmon, please!) So do international favorites like Thai coconut curry, baked brie and wonton soup. And from a spice perspective, tarragon, shallot and turmeric.
Wine Temperature
A very cold wine may sound refreshing, but you won't taste the layers of flavor. So while chardonnay is definitely best served chilled, serve it at these temperatures:
• Oaked: 54ºF
• Unoaked: 48ºF
Try This
Sonoma-Cutrer® Sonoma Coast Chardonnay
Aromas of white peach, nectarine, melon and oak spice with hints of vanilla, toasted nuts, butterscotch and caramel. Flavors of ripe pear and peach with bright acidity and a long, silky spice finish.
And Pair It With 
Pinot Noir
The Basics
Pinot noir may be easy to drink, but the grape is fickle to grow. It has thin skin, grows in tight clusters, and while it does love sun, it doesn't love heat. The smooth, lighter-body wine from this grape is appealing for white and red fans, and a perfect pairing for many foods.
Pinot noir is grown around the world—from the U.S. to Europe to South America to Australia. Those different soils and weather affect the taste in your glass. For example, the sunshine and warm growing season in California give you a rich, lush wine with black raspberry and cherry flavors. But an Oregon variety gets less of that sun and warmth, which makes it lighter in color with a thinner texture and tarter flavors like cranberry.
Food Pairing
Pinot noir is like the friend who gets along with everyone at every party. It pairs with a vast range of foods. Salmon steaks, grilled pork and roasted chicken? Definitely. Goat cheese, beef stew and squash? Absolutely. Pasta, bruschetta and mushroom risotto? Yes, yes and yes. And for your sweet tooth, try pairing a sweeter dark chocolate or chocolate caramel filling with your pinot noir.
Wine Temperature
Serve pinot noir when it's cool to the touch, about 63ºF.
Try This
Sonoma-Cutrer® Russian River Valley Pinot Noir
Aromas of blackberry, cola and vanilla with hints of baking spice and red licorice. Sumptuous black cherry, tobacco and sweet barrel spice flavors with fine tannins for a long, smooth finish.
And Pair It With
Final Thought
Lastly—and this is the most important takeaway—you don't need an excuse or special occasion to open a good bottle of wine. So grab the corkscrew, a couple of glasses and someone special. Cheers!